AFM is your trusted partner for carpenter in Lahore, where craftsmanship meets excellence.Our carpentry services are based in Lahore. Aenzay facility management is profoundly dedicated to our domain of work. It is in our compliance to work closely with our clients. We strive our best to achieve excellence in a network of trade professionals. Altogether, by providing bespoke joinery and improvements service businesses and homeowners.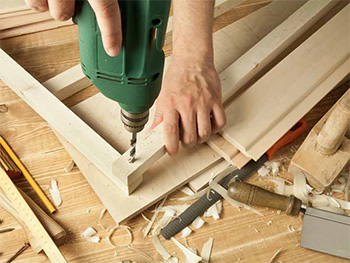 Our Achievement As Best Carpenter In Lahore 
For achieving excellence we utilized modern technology.  We constantly tailor the prices to suit the project, whether it involves window frames, doors, or floors. We can even supply a 'team' of multi-professional tradesmen for massive initiatives with every member being an expert within their own trade. AFM have carried out carpentry and joinery along with renovating residential properties, commercial offices, retail outlets, and the communal areas of buildings.From creating washroom and cooking space from scratch. AFM, Best Carpenter In Lahore don't ignore home improvement projects either they're small or large in size.
Moreover, we have a qualified team. Our team can undertake any size of the project. This may include building a wall or installing a roof on the top. Though, the staircases are built with higher standards. As a matter of fact, we don't compromise on the quality of timber and wood. Our team is delightful to to work with architects and designers. Our carpentry services ensure we're achieving higher standards of clients. We comply with the Pakistan Engineering Council standards. Our core team consists of tradesmen that do their best to provide professional and flawless finish. We provide a wide-range of services and might be some of the services that are not listed here. Please feel free to contact us with any queries.
We
have been providing the best preventive maintenance services to many of our customers for years. it is the experience that we have and the trust that we have built because of which our customers only select us. Apart from that, we have the most talented and skilled team of carpenters that will meet all your requirements.